CH Pickleball Player Reviews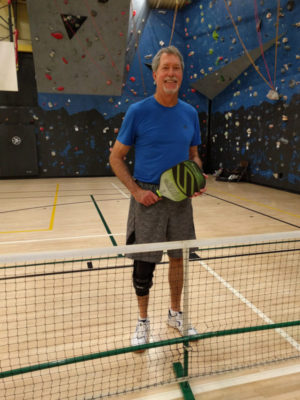 Dick Tate
Reviewer 12/22/2017
I had the opportunity to try the Selkirk Epic Amped paddle for an hour this month. I have been playing Pickleball for four years and have played with a variety of paddles. I have had a Selkirk Magnum ProLite for about 6 months, and I am pleased with it's performance. Although the Epic paddle is almost twice the thickness of my ProLite, the new paddle did not seem heavy at all. It offers a good blend of power and control, and I felt comfortable with it within 15 minutes. The surface seems a little softer than my paddle, but it facilitates imparting spin on the ball. The paddle inspired confidence in making serves, dinks and volleys. I have a large hand, so the sample paddle grip was a bit small. I have added grips sleeves on all my previous paddles to compensate for this. I want to thank Pickleball Central for providing the paddles for our evaluation. I heard positive feedback from everyone who tried thIs new paddle.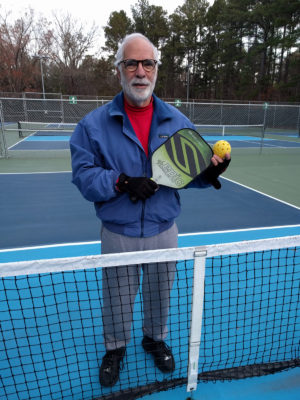 David Langmeyer
Reviewer 12/20/2017
After playing with the Epic Amped paddle for two days and 6 games, two seemingly contradictory words summarize my experience: solid and soft. This 8 oz paddle is a bit heavier than what I usually play with so I expected it to play with more ``oomph`` and it does. But a strike also feels and sounds soft coming off the face. A strong hit doesn't travel into your hand and arm as a more rigid paddle face sometimes does, and the POP isn't nearly as pronounced. It seems to have a very large sweet spot, and while miss the extra length of my usual play paddle (17 inch) I felt more secure with the extra width when returning hard hit volleys at the NVZ line. This was a paddle where I get a powerful, confident, hit' as well as a nice feel for a softer game either at the net or trying to hit softly over the net. Another, much better, player used the paddle and remarked about its available power and how there was no shock in his hand or arm even smashing the ball from the back line.
I quite enjoyed playing with the paddle. It is a very thick paddle, which probably results in both the power and the soft feel. The thickness may have also brought on the one, very minor, problem I had which was a quite pronounced edge guard. It only interfered once, but I did get a miss hit with the guard, but I shouldn't have been hitting that close to the edge anyway.
A fun diversion of pickleball (for me) is trying out different paddles. Experiencing weights, composition or shapes. By offering paddles for tryouts and review, Pickleball Central and Selkirk has given me a chance to explore the world of paddles without signing up for a pickleball training event Phil V.
Reviewer 12/27/2017
I'm a 4.0 player that plays with an unusual amount of spin, and a power serve. My paddle of choice has been an 8.1 oz Elite Encore Pro, which I found to suit my game well – with power and control. It is a 'hybrid' paddle in terms of length – longer than most, but not a long and skinny paddle. I like it a lot but was getting some shoulder pain after prolonged use.
When I read about the Selkirk Amped line, two things made me want to try this out. One was the 'less vibration' comments, and the second was the option to try one with a shorter handle– made sense to me to try given that I use a ping-pong grip (forefinger on paddle face).
I ordered the 8.1 oz Amped Omni, and really liked the control and the soft feel at the net. It certainly had less vibrations. I found it a bit less powerful than the Elite Pro, but it was easy to ratchet up the power when needed. I wasn't able to switch hit as easily, and my smashes weren't landing right even after 5 – 6 days of playing. (Note the paddle I am used to is very slightly shorter than the Amped Omni.)
When our ambassador brought along a demo 8.1 oz Amped Epic from Pickleball Central, I decided to try it. I instantly found it better suited to my game. It was the same weight as the Amped Omni, but it felt quite a bit faster at the net, and my control at the net improved. My serves had more of a 'kick' to it and advanced players were saying there was more pronounced spin as well. I didn't expect the kick as the Engage Elite Pro still seems to have a little more 'pop' to it than the Amped Epic. I also didn't notice the loss of length – my smashes were working as well as before.
Overall, this is a terrific paddle. I'd recommend it to power players who are looking for more control as well as finesse players who are looking for more power. I'm going to investigate the Amped S2, and pick up one of these two paddles. BJ Attwood
Reviewer 12/21/2017
When I first saw this paddle, I thought it would be heavier than I like because it was twice as thick as my favorite paddle (also a Selkirk). I was surprised at how light it was once I played with it. It feels really nice in my hand and had enough power to hit hard shots as well as soft. The grip was larger than my usual small grip but I never felt uncomfortable playing with it.The surface helps with spin and I was able to hit more spin than usual. I also felt that I was placing the ball better than usual and had more control. My serves had more spin and I felt like I had the ability to place the ball where I wanted it on the serve.
I was happy with way it played and never felt over or underwhelmed. It is probably better for people who like a lighter or mid weight paddle.
I would buy this paddle and was sorry to pass it on to the next person. It was immediately comfortable and did not require a long getting usedd to time